Home to AKC REGISTED BLUE AND SILVER WEIMARANERS. Champion lines and old foundation lines. We also have our imported silver line. Our pups are whelped and raised in our home. By being in that home life, our dogs and puppies are prepared for the life they will have in their future homes. All our dogs are trained off leash with no fences to create that strong bond.
We usually book in advance, only having a couple litters a year. Our dogs are our family, they hunt, camp, go boating and of course lounge at home by the fire with us watching a great movie!
All our dogs have a home for life..if at anytime in their journey they should need a place to rest their head, I will gladly bring them home. I believe breeding is a lifelong commitment that is made with each pup, each day.
If you are looking for a young adult weim or a more mature weim please reach out to me. I sometimes have weims from other familes that are in need of a new home. These are not usually my dogs, but great dogs in need of homes just the same.
We are reserving for our summer silver grey litter (Kinley and Cooper )2022 and our winter 2022 litter. We will have blues, silvers and greys.
Please acquire about our upcoming litters at mavericksnight@gmail.com
WE HAVE A BLUE FEMALE WEIM 5YRS OLD. SUPER CALM,EXTREAMLY WELL TRAINED, NO ANXIETY, HOUSE AND CRATE TRAINED.OFF LEASH TRAINED. GREAT RECALL. GOOD WITH LITTLE DOGS. LIKES OTHER DOGS. USED TO LOOSE DUCKS. LOVES LOVES THE WATER,CAR RIDES AND VERY CHILD SAFE VERY GENTLE
WE HAVE A 4YR OLD SILVER FEMALE WEIM THAT WILL BE COMING UP FOR ADOPTION TO THE RIGHT PERFECT HOME. SHES A VERY SPECIAL, HEALTHY, LOVING GIRL. ❤️ EMAIL ME FOR PICTURES AND INFORMATION.
Verick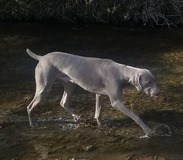 Look at WEIMARANER PUPPIES FOR SALE TO SEE PICTURES